Tribal style and free expression
Keywords:
Polyrhythm -- Zambia, Folk songs, Tonga (Zambezi), Tonga (Zambezi people) -- Songs and music, Ila (African people) -- Songs and music, Musical bow -- Zambia, Music -- Africa -- History and criticism, Music -- Interpretation (Phrasing, dynamics, etc)
Abstract
The music which forms a basis for this article is recorded on Gallotone records GB 970, GB 969, and GB 964. It comes from two of the Northern Rhodesian tribes whose polyrhythmic technique has been extensively described and analysed by the Reverend A.M. Jones in numerous writings and lectures. The recorded songs are, however, less complex than such fully orchestrated group performances as the "Icila Dance" of A.M. Jones' book, and it is on account of their few parts that an attempted analysis from the recordings is here made of their purely acoustic features. Examination of these songs reveals something of the reflection which the overall group musical style, as far as it can be established, casts within the smaller details of more private music-making, and also how individual expression is achieved within the style. Most space is taken up, here, in dealing with the two Tonga songs on the first recording, which are examples from amongst the several types of Tonga and Ila song whose function and composition A.M. Jones describes in African Music. The musical bow, which supplies their accompaniment, he mentions as one of several "private instruments for personal enjoyment."
References
M. Jones: The Icila Dance Old Style, African Music Society, 1952. African Music in Northern Rhodesia and Some Other Places, Rhodes-Livingstone Museum, 1949.

P.R. Kirby: The Musical Instruments of the Native Races of South Africa, Oxford University Press, 1934.

A.P. Merriam: "African Music Re-examined," in African Music Society Newsletter, Vol. 1, No. 6, September, 1953.

M. Kolinski: "Musicological Analysis of Suriname Songs" in Suriname Folklore by M. and F. Herskovits, New York, Columbia University Press, 1936.

E.M. von Hornbostel: "African Negro Music," article in Africa, January, 1928.

Kathleen Schlesinger: The Greek Aulos, Methuen, 1939.

Rose Brandel: "Music of Giants and Pygmies of the Belgian Congo" and "Music of African Circumcision Rituals," articles in Journal of the American Musicological Society, Vol. V, No. 1, 1952 and Vol. VII, No. 1, 1954.

R. Waterman: "Hot Rhythm in Negro Music," article in Journal of the American Musicological Society, Spring, 1948.

Matyas Seiber: "Rhythmic Freedom in Jazz?" articles in The Music Review, Vol. VI, Nos. 1, 2 and 3, 1945.

Westphal-Tombs Tone Analyser, at School of Oriental and African Studies, University of London. (Design unpublished).

General
J. Kunst: Musicologica, Het Indisch Institut, 1950. Music in Java, The Hague, Martinus Nijhoff, 1949.

A. Schoenberg: Style and Idea, London, Williams & Norgate, 1951.

Curt Sachs: Rhythm and Tempo, Dent, 1953. World History of the Dance, New York, 1937.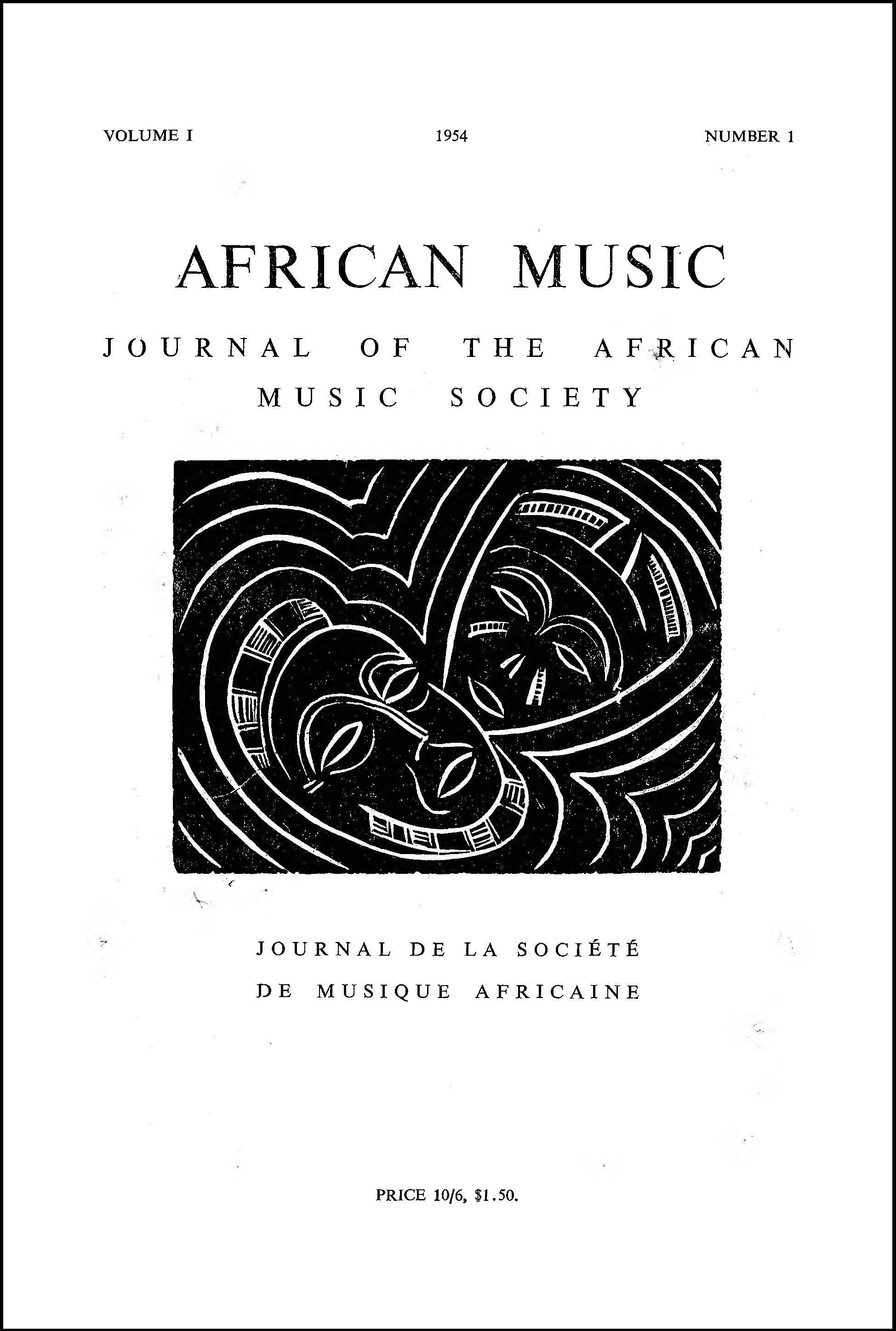 Downloads
How to Cite
Rycroft, David R. 1954. "Tribal Style and Free Expression". African Music : Journal of the International Library of African Music 1 (1):16-27. https://doi.org/10.21504/amj.v1i1.221.