GENDERED SPACE TRANSGRESSORS: STUDY OF TWO YORÙBÁ FEMALE DÙNDÚN DRUMMERS
Keywords:
Dùndún, drumming, Yorùbá music, female drummers, gender issues, male dominance, gendered space
Abstract
The contemporary Nigerian musical landscape occasionally becomes a site for contesting and negotiating the established ideology of Yorùbá patriarchy. These movements are evident in many women's decisions to venture into drumming, an age-old male dominated musical profession. Informed by the theory of spatial trialectics, this article investigates gendered space in relation to dùndún drumming with a view to understanding the changing nuances of gender relations among the Yorùbá of southwestern Nigeria. Ethnographic techniques were used to generate data on Àrà and Àyánbìnrin, two well-known urban popular female dùndún performers whose aspirations and career trajectories reside outside the Àyà n lineage and spiritual tradition. Biographical accounts and lived experiences of both artists suggest that women's agency in Yorùbá drumming is hedged by different, prevailing socioeconomic contexts, including a determination to challenge limitations to a career path and economic progress. By describing how female dùndún drumming may be regarded as a response to social and musical change, and discussing how issues of masculinity and femininity are constructed, negotiated and contested, I argue that the belief forbidding women from playing Yorùbá drums is not strictly applicable to the dùndún because the dùndún ensemble is more connected to social than religious performances.
References
Ajibade, George Olusola 2013 "Same-Sex Relationships in Yorùbá Culture and Orature." Journal of Homosexuality 60 (7): 965–983.

Bankole, Ayo, Judith Bush, Sadek H. Samaan, K. Anyidoho, M. Alafuele, and I.A. Ebong 1975 "The Yorùbá Master Drummer." African Arts 8 (2): 48–56, 77–78.

Butler, Judith 2005 Giving an Account of Oneself. New York: Fordham University Press.

Doubleday, Veronica 1999 "The Frame Drum in the Middle East: Women, Musical Instruments and Power." Ethnomusicology 43 (1): 101–134.

Doubleday, Veronica 2008 "Sounds of Power: Musical Instruments and Gender." Ethnomusicology Forum 17 (1): 3–39.

Drewal, Margaret Thompson 1992 Yorùbá Ritual: Performers, Play, Agency. Bloomington: Indiana University Press.

Euba, Akin 1990 Yorùbá Drumming: The Yorùbá Dùndún Tradition. Bayreuth: Bayreuth African Studies.

Fadipe, Nathaniel A 1970 The Sociology of the Yorùbá. Ibadan: Ibadan University Press.

Klein, Debra L. 2007 Yorùbá Bata Goes Global: Artists, Culture Brokers, and Fans. Chicago: University of Chicago Press.

Koskoff, Ellen, ed. 1989 Women and Music in Cross-Cultural Perspective. Urbana: University of Illinois Press.

Loko, Olugbenga O. 2010 "Growth and Challenges of the Music Recording Industry in Nigeria 1920–2000." PhD Dissertation: University of Ibadan, Nigeria.

Marcuzzi, Michael 2005 "A Historical Study of the Ascendant Role of Bata Drumming in Cuban Orisa Worship." PhD Dissertation: York University, Toronto.

Nketia, Kwabena J. H. 1988. The Music of Africa. London: Victor Gollancz Ltd.

Nzegwu, Nkiru 1999 "Art as Time-Lines: Sacral Representation in Family Spaces." In Sacred Spaces and Public Quarrels: African Cultural and Economic Landscapes, Paul Tiyambe Zeleza and Ezekiel Kalipen, eds. 171–95. Asmara: African World P.

Nzewi, Meki and Sello Galane 2005 "Music is a Woman." In Gender and Sexuality in South African Music, Chris Walton and Stephanus Muller, eds. 71–79. Stellenbosch: Sun Press.

Olaniyan, C. Olayemi 1993 "The Dùndún Master-Drummer-Composer, Arranger and Performer and His Devices." African Notes 17 (1–2): 54–61.

Olaniyan, C. Olayemi 2001 "Yorùbá Dùndún Musical Practice." Nigerian Music Review 2: 68–79.

Omibiyi-Obidike, Mosunmola A. 1988/1989 "Women in Nigerian Music." Urgent Anthropological and Ethnological
Research 30/31: 101–115.

Omojola, Bode 2012 Yorùbá Music in the Twentieth Century: Identity, Agency and Performance Practice. New York: University of Rochester Press.

Ozah, Marie Agatha 2010 "Can we Dance Together? Gender and Performance Space Discourse in Égwú Àmà là of the Ogbaru of Nigeria." Yearbook for Traditional Music 42: 21–40.

Samuel, Kayode Michael 2009 "Female Involvement in Dùndún Drumming among the Yorùbá of Southwestern Nigeria." PhD Dissertation: University of Ibadan, Nigeria.

Samuel, Kayode Michael 2014 "Male Attitudes to Female Dùndún Drumming in Western Nigeria." Nigerian Field 79: 25–40.

Samuel, Kayode Michael and Jonathan Adeniyi Olapade 2013 "Igbin Musical Tradition in Yorùbá Culture." Awka Journal of Research in Music and the Arts 9: 187–197.

Sanga, Imani 2007 "Gender in Church Music: Dynamics of Gendered Space in Muziki wa Injili in Dar es Salaam, Tanzania." Journal of Popular Music Studies 19 (1): 59–91.

Vincent, Amanda 2006 "Bata conversations: Guardianship and Entitlement Narratives about the Bata in Nigeria and Cuba." PhD Dissertation: School of Oriental and African Studies, University of London.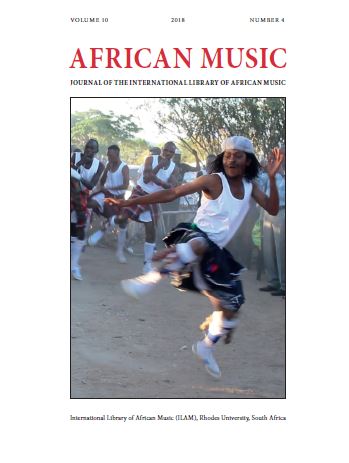 Downloads
How to Cite
Samuel, Kayode. 2018. "GENDERED SPACE TRANSGRESSORS: STUDY OF TWO YORÙBÁ FEMALE DÙNDÚN DRUMMERS". African Music : Journal of the International Library of African Music 10 (4):160-76. https://doi.org/10.21504/amj.v10i4.2238.