Indonesia and Africa: the xylophone as a culture-indicator
Keywords:
Xylophone music -- Indonesia, Xylophone music -- Africa, Chopi (African people) -- Music, Yoruba (African people -- Music, Adangme (African people) -- Music
Abstract
This essay is an appeal to scholars of various disciplines to bring their knowledge to bear on a thesis which has arisen in the first place purely from musical evidence. The thesis we have propounded alters our perspective of Africa; it calls for a map with the Indian Ocean in the centre—a basin whose rim is Indonesia on the east, Madagascar in the south, and Africa on the west, all, to a greater or less extent, sharers in a common sphere of influence. The theory calls for the collaboration of scholars working all round this rim. Perhaps African studies have tended to be too much confined to Africa, though we believe other workers are now also looking tentatively at Indonesia. Let us all come into the open with evidence for or against. We would welcome discussion and criticism, but, as a musician, with one caveat, that those who would demolish the non-musical evidence must at the same time account for the musical phenomena if their argument is to stand.
References
ABINAL & MALZAC 1930. Dictionnaire Malgache-Francais, Tananarive.

BEART, C. 1955. Jeux et Jouets de I'Ouest Africain. Dakar.

BEIER, H.U. 1956. Yoruba Vocal Music. African Music, J. Afric. Mus. Soc., 1.

BOONE, O. 1936. Les xylophones du Congo Belge. Tervueren.

CHRISTIE, A.H. 1957. An obscure passage from the Periplus. Bull. School of Oriental and African Studies, 19, pp. 345-353.

COEDES, G. 1923. Bronzes Khmers. Ars Asiatica, 5. Paris.

DURIYANGA, PHRA CHEN 1956. Thai Music. Bangkok.

FAGG, W.B. 1958. Remarkable new finds at Ife, Western Nigeria. Man, 1958, 68. PI. A.

FERRAND, G. 1919. Le K'ouen-louen et les anciennes navigations interoceaniques dans les mers du sud. J. Asiatique, II ser., 13, pp. 431-492.

GOODYEAR, W.H. 1891. The Grammar of the Lotus. London.

HOOD, MANTLE 1954. Patet in Javenese Alusic. Groningen.

HORNELL, JAMES 1934. Indonesian influence on East African Culture. J.R. Anthrop. Inst. 64, pp. 305-32.

HUTTON, J.H. 1946. West Africa and Indonesia: a problem in distribution. J.R. Anthrop. Inst. 76, pp. 5-12.

JUYNBOLL, H.H. 1923. Oudjavaansch—Nederlandsche Woordenlijst. Leiden.

KATS, J. 1923. Piet Javaansche Toneel. Weltevreden.

KUNST, JAAP 1949. Music in Java. The Hague.

MURRAY, K.C. and WILLETT, FRANK 1958. The Ore Grove at Ife, Western Nigeria. Man, 1958, 187.

NKETIA, J.H. 1958. The Ideal in African Folk Music—A Note on Klama. Universitas, 3 (2), pp. 40-2. Univ. Coll. Ghana.

SACHS, CURT 1938. Les Instruments de Musique de Madagascar. Paris.

SINGAM, S. DURAI RAJA 1954. India and Malaya through the Ages. Kuantan, Malaya.

TALBOT, P.A. 1926. The Peoples of Southern Nigeria. London.

TRACEY, HUGH 1948. Chopi Musicians. Oxford.

UNDERWOOD, LEON 1949. Bronzes of West Africa. London.

VILLIERS, ALAN 1957. The Western Ocean. London.

WACHSMANN, K.P. 1957. A study of norms in the tribal music of Uganda. Ethnomusicology, Newsletter II.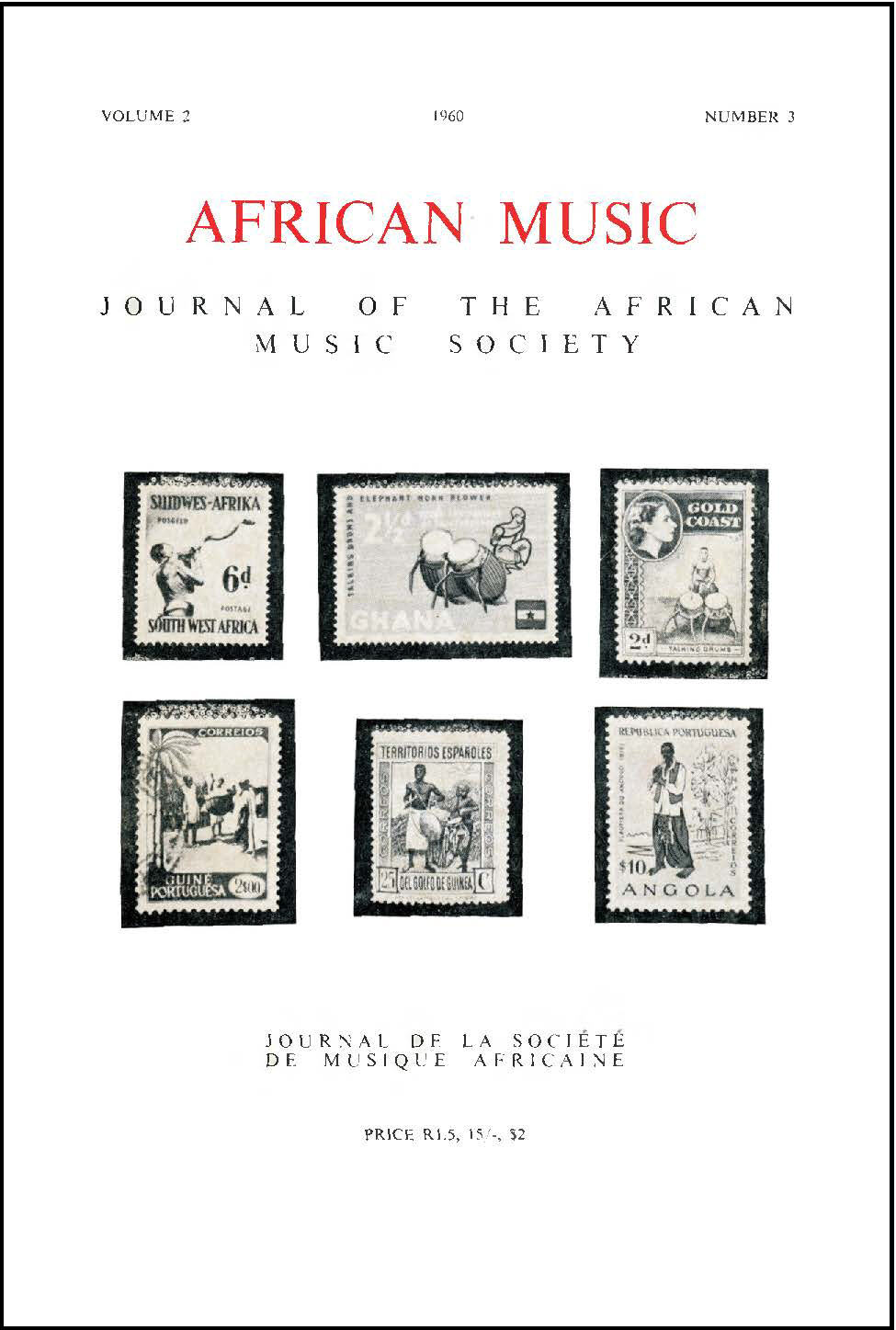 Downloads
How to Cite
Jones, A.M. 1960. "Indonesia and Africa: The Xylophone As a Culture-Indicator". African Music : Journal of the International Library of African Music 2 (3):36-47. https://doi.org/10.21504/amj.v2i3.608.