Elephantiasis and music
Keywords:
Elephantiasis -- Africa, Xylophone -- Africa
Abstract
Just over a year ago I received a letter from someone I had never heard of - Dr. B. R. Laurence, Reader in Entomology at the London School of Hygiene and Tropical Medicine, University of London - saying he would like to meet me to discuss his findings arising out of his recent research. The present essay is the result of our meeting
References
Westphal, E. O. J. (1963), "The linguistic prehistory of Southern Africa", Bush, Kwadi, Hottentot and Bantu linguistic relationships. Africa, 23, 237-265.
Wilson, M., & Thompson, L. (eds.), (1969): Oxford History of South Africa, vol. I.
Tanaka, J. (1969),"The ecology and social structure of Central Kalahari Bushmen: a preliminary report. Kyoto University African Studies 3, 1-26.
Tanaka, J. (1973)," Subsistence ecology of Central Kalahari San", Publication pending.
Kubik, G. (1969),"A Musica Tradicional e Aculturada dos Povos IKung de Angola".
Kirby, P. R. (1961),"Physical phenomena which appear to have determined the bases and development of an harmonic sense among Bushmen", Hottentot and Bantu. African Music II, 4, 6-9.
Silberbauer, G. (1965),"Bushman Survey Report".
Kirby, P. R. (1953), "The Musical Instruments of the Native Races of South Africa. 2nd edition".
Baines, T. (1864),"Explorations in South West Africa".
Kirby, P. R. (n.d.): Bushman Music. Unpublished typescript in Johannesburg Public Library.
Bleek, W. H. I., & Lloyd, L., (1911)"Bushman Folklore"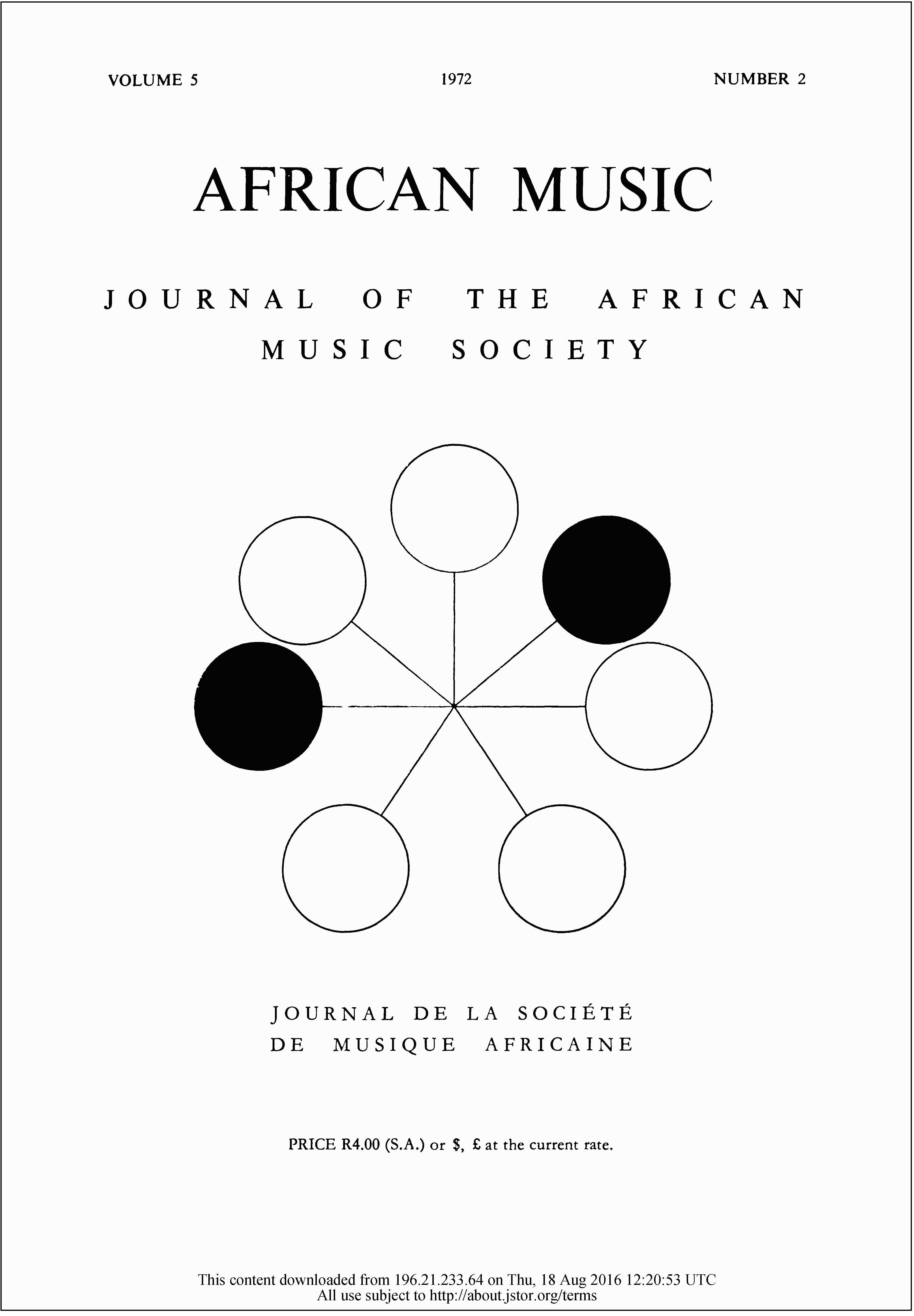 Downloads
How to Cite
Jones, A.M. 1972. "Elephantiasis and Music". African Music : Journal of the International Library of African Music 5 (2):46-49. https://doi.org/10.21504/amj.v5i2.1418.