The mbira of the Ndau
Mozambique and Zimbabwe in 1972
Keywords:
Hexatonic, Kubempa, Mbira, Mbira dza vaNdau, Mozambique, Murombe, Ndau, Shona, Shangana, Zimbabwe, Tunings, Transcriptions
Abstract
The article, arising from research done in 1972, follows on the author's series of analyses of the instrumental music of the Shona and Sena peoples of the Zambezi Valley. The analyses in this article focus on the relatively unknown mbira of the Ndau. The article describes its hexatonic note layout, highly variable tunings, and its variations among the Ndau-and Shangana-speaking groups in Southeast Zimbabwe and adjacent regions of Mozambique and South Africa. It includes the historical effect of the Shangana invasion of the nineteenth century into Mozambique. The article further discusses the transcription of the mbira's music, in staff or the author's own tablature, with detailed description of the latter. It compares Ndau with Shona concepts of ownership of songs, the practice of kubempa as used by Ndau travelling musicians and the difficulties of working in pre-independence Mozambique. The article presents songs in tablature, some by Bonisa Sithole, the author's field assistant.
References
Berliner, P. F. 1974. The Soul of Mbira: An Ethnography of the Mbira Among the Shona People of Rhodesia. PhD Thesis, Middletown: Wesleyan University.
Berliner, Paul. 1993. The Soul of Mbira. Chicago: University of Chicago Press.
Blacking, John. 1959. "Problems of Pitch, Pattern and Harmony in the Music of the Venda." African Music 2 (2): 15–23. https://doi.org/10.21504/amj.v2i2.583.
Kubik, G. 1980. "Likembe Tunings of Kufuna Kandonga (Angola)." African Music 6 (1): 70–88. https://doi.org/10.21504/amj.v6i1.1097.
Liesegang, G. J. 1975. "Aspects of Gaza Nguni history 1821-1897." Rhodesian History 6:1–14.
Peires, J. B., ed. 1983. Before and after Shaka: Papers in Nguni History. Makhanda: Institute of Social and Economic Research, Rhodes University.
Perman, Tony. 2011. "Awakening Spirits: The Ontology of Spirit, Self and Society in Ndau Spirit Possession practices in Zimbabwe." Journal of Religion in Africa. Religion en Afrique 41 (1): 59–92. https://doi.org/10.1163/157006611X559077.
Perman, Tony. 2019. "Brevity, Ambiguity and Expressivity in mbira dzaVandau performance." In: Mbira music/musics: Structures and processes, edited by Klaus-Peter Brenner. Symposium III.4, University of Gőttingen: 15th Internjational Conference of Gesellschaft für Musikforschung, 2012.
Tracey, Andrew. 1961. "The Mbira Music of Jege Tapera." African Music 2 (4): 44–63. https://doi.org/10.21504/amj.v2i4.705.
Tracey, Andrew. 1972. "The Original African Mbira?" African Music 5 (2): 85–104. https://doi.org/10.21504/amj.v5i2.1421.
Tracey, Andrew. 1973. "The Family of the Mbira: The Evidence of the Tuning Plans." Zambezia 3 (1): 1–10.
Tracey, Andrew. 1997. "Transcribing African Music in Pulse Notation." Unpublished booklet, Makhanda: International Library of African Music, Rhodes University.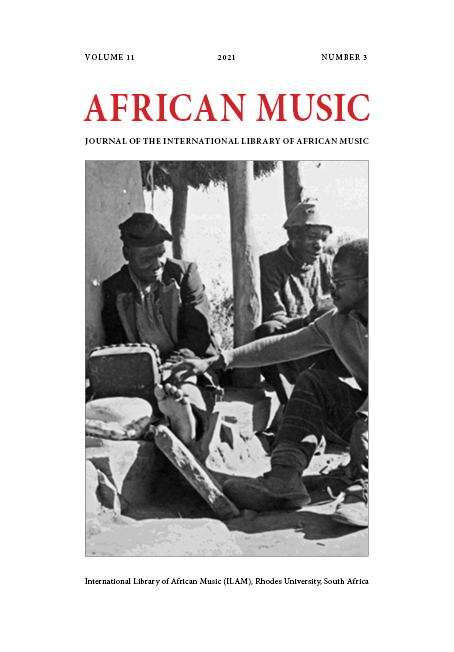 Downloads
How to Cite
Tracey, Andrew. 2022. "The Mbira of the Ndau: Mozambique and Zimbabwe in 1972". African Music : Journal of the International Library of African Music 11 (3):1-32. https://doi.org/10.21504/amj.v12i1.2428.
License
Copyright (c) 2022 INTERNATIONAL LIBRARY OF AFRICAN MUSIC, Rhodes University
This work is licensed under a Creative Commons Attribution-NonCommercial-ShareAlike 4.0 International License.