Street language in Dùndún Drum Language
a musico-lingual perspective on street cultures in Nigeria
Keywords:
Culture, Drum Language, Dùndún, Ethnographic, Melo-rhythm, Nigeria, Street Language, Yoruba
Abstract
Dùndún drum language is a practice of speech surrogacy employed by dùndún drummers in Yoruba culture. The dùndún drummers play sequences of melo-rhythmic patterns; a form of communication that employs musical and linguistic elements, comprehensible to listeners knowledgeable in the Yoruba language. Although these sequenced patterns are sourced from Yoruba everyday sentences and oral genres (proverbs, poetry, praise-chants, and idiomatic phrases), the drummers also embrace other social narratives. These include the popular linguistic expressions in public spaces referred to as "street language." This is because the streets serve as spaces for social life, musical and cultural imaginaries, musical and language expressions, and identity. This street language, referred to as "ohùn ìgboro" in Yoruba, include slang (saje), slurs (òtè), neologies (ènà), satire (èfè), dance-drum patterns (àlùjó), and socio-political slogans (àtúnlò-èdè). This article explores the influence of street language on dùndún music. This article follows an ethnographic model, with an analysis of the content of the dùndún music and its associated texts. The article's findings include the extent to which the two cultures have overlapped, and the various socio-cultural benefits of adopting the language of each other's cultural practices. In the process, the article contributes to the debate on authenticity and social structure in Yoruba culture. The article emphasises the need for an integrated research approach of music and language and their interrelationship to street cultures in Nigeria.
References
Adedeji, Femi. 2017. "Popular Culture." In Culture and Customs of the Yoruba, ed. T. Falola and A. Akinyemi, 913–928. Texas: Pan-African University Press.
Adeeko, Adeleke. 2019. Arts of Being Yoruba: Divination, Allegory, Tragedy, Proverb, Panegyric. Bloomington: Indiana University Press.
Agawu, Kofi. 2016. The African Imagination in Music. New York: Oxford University Press. doi:10.1093/acprof:oso/9780190263201.001.0001.
Bayat, Asef. 2013. Life as Politics: How ordinary people change the Middle East. 2nd ed. Redwood City: Stanford University Press.
Dasylva, Ademola. 2017. "Folklore, Oral Traditions, and Oral Literature." In Culture and Customs of the Yoruba, ed. T. Falola and A. Akinyemi, 139–158. Texas: Pan-African University Press.
Eprile, Brendan. 2017. "Songs of Change: How Music Helped Spark the Arab Spring Revolutions in Egypt and Tunisia." Honours paper, Oberlin College. https://dx.doi.org/0000-0002-9735-1514.
Euba, Akin. 1990. Yoruba Drumming: The Dundun Tradition. Lagos: Elekoto Music Centre and Bayreuth African Studies Series.
Falola, Toyin. 2016. "Pluriversalism." In The Humanities in Africa: Knowledge Production, Universities, and the Transformation of Society, 265–300. Texas: Pan-African University Press.
Falola, Toyin. 2018. The Toyin Falola Reader on African Culture, Nationalism, Development and Epistemologies. Texas: Pan-African University Press.
Falola, Toyin, and Akintunde Akinyemi, eds. 2017. Culture and Customs of the Yoruba. Texas: Pan-African University Press.
Gonzalez, Mariano and Oludare, Olupemi. Forthcoming. "The Speech Surrogacy Systems of the Yoruba Dùndún and Bàtá Drums. On the Interface between Organology and Phonology." Frontiers in Communication.
Irele, Abiola, ed. 1977. Selected Poems of Leopold Sedar Senghor. Cambridge: University Press.
Johnson, Samuel, ed. (Original work published 1921) 2017. The History of the Yorubas. Lagos: C.S.S. Ltd.
Kerr, David. 2017. "Thugs and Gangsters: Imagination and the Practice of Rapping in Dar es Salaam." Suomen Antropologi 42 (2): 10–24.
Nkrumah, Kwame. 1973. Revolutionary Path. London: Panaf.
Olaniyan, Oluyemi. 2008. "The Manifestation of the Poetic Aptitude of the Yoruba Dundun Master Drummer within the Framework of Dundun Music." Awka Journal of Research in Music and the Arts 5: 95–110.
Oludare, Olupemi. 2020. "The Musical and Cultural Leadership Roles of Yoruba Master Instruments." In Governance and Leadership Institutions in Nigeria, edited by E. Aniche and T. Falola, 65–74. London: Routledge. https://dx.doi.org/10.4324/9781003111405-7.
Oludare, Olupemi. 2021. "Yoruba Traditional Instrumental Ensemble and Indigenous Knowledge Systems." In Pathways to Alternative Epistemologies in Africa, edited by A. Afolayan, O. Yacob-Haliso, and S. O. Oloruntoba, 205–219. London: Palgrave Macmillan. https://dx.doi.org/10.1007/978-3-030-60652-7_12.
Olusoji, Stephen. 2013. "A Discourse on the Master Musician and Informal Music Education in Yoruba Traditional Culture." Journal of Arts and Humanities 2 (4): 55–61.
Omofoyewa, Kazeem. 2017. "Idioms, Proverbs, and Dictums." In Culture and Customs of the Yoruba, ed. T. Falola and A. Akinyemi, 99–112. Texas: Pan-African University Press.
Omojola, Bode. 2012. Yoruba Music in the Twentieth Century: Identity, Agency, and Performance. Rochester, NY: University of Rochester Press.
Osundina, Oyeniyi. 2015. Dundun: The Talking Drum of the Yoruba People of Southwest Nigeria. London: Austin Macauley Publishers.
Ross, Jeffrey. 2018. "Reframing Urban Street Culture: Towards a Dynamic and Heuristic Process Model." City, Culture and Society 15: 7–13. https://doi.org/10.4324/9781003111405-710.1016/j.ccs.2018.05.003.
Ruskin, Jesse. 2013. "The Yorùbá Dùndún in Local and Transnational Perspective: A Cosmopolitan Tradition in the Making". University of California Digital Library. https://escholarship.org/uc/item/5rf4g63g
Samuel, Kayode. 2018. "Gendered Space Transgressors: Study of Two Yoruba Female Dundun Drummers". African Music 10 (4), 160–76. https://doi.org/10.21504/amj.v10i4.2238.
Samuel, Kayode. 2020. "Rethinking the Dynamics of Yorùbá Dùndún Music Resource Materials in the Context of Claudius Olayemi Olaniyan's Scholarship." African Musicology Online 10 (2): 96–120.
Uchendu, Chikesie. 1988. "Towards a Strategic Concept of Culture: Implication for Continental Unity." In African Unity: The Cultural Foundations, edited by Z. Ali, 21–22. Lagos: Centre for Black and African Arts and Civilization.
Vidal, Tunji. 2012. Essays on Yoruba Musicology: History, Theory and Practice. Ile-Ife: Obafemi Awolowo University Press.
Villepastour, Amanda. 2010. Ancient Text Messages of the Yoruba Bata Drum: Cracking the Code. Farnham, England: Ashgate.
Waterman, Christopher. 1990. Juju: A Social History and Ethnography of an African Popular Music. Chicago: University of Chicago Press.
Whiteman, Kaye. 2014. "Streets of the Imagination: Everyday Mysteries of the City." In Lagos: City of the Imagination, 281–307. Abuja: Cassava Republic Press.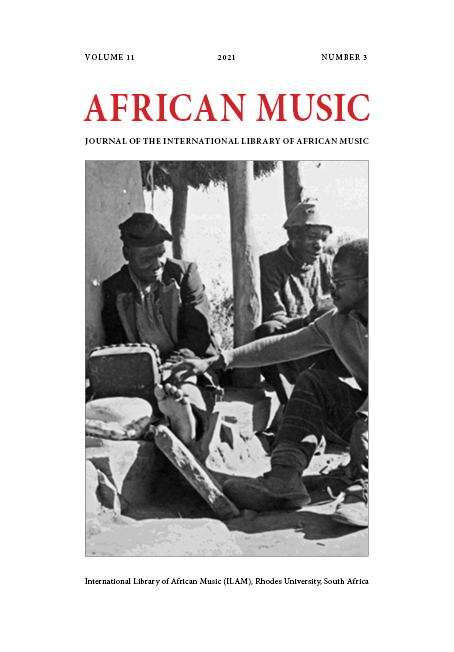 Downloads
How to Cite
Oludare, Olupemi. 2022. "Street Language in Dùndún Drum Language: A Musico-Lingual Perspective on Street Cultures in Nigeria". African Music : Journal of the International Library of African Music 11 (3):33-54. https://doi.org/10.21504/amj.v12i1.2429.
License
Copyright (c) 2022 INTERNATIONAL LIBRARY OF AFRICAN MUSIC, Rhodes University
This work is licensed under a Creative Commons Attribution-NonCommercial-ShareAlike 4.0 International License.