CHIMURENGA RENAISSANCE: DOUBLE DOUBLENESS IN THE DIASPORIC MUSIC OF TENDAI MARAIRE
Keywords:
African diaspora, Black Atlantic
Abstract
Over the past decade, emerging Seattle-based artist Tendai Maraire, the American-born son of Zimbabwean teacher, performer, and ethnomusicologist, Dumisani Maraire, has crafted a unique musical position by marshaling multiple diasporic strands in his music. These include both the centuries-old African-American diaspora that took shape through the "Black Atlantic,†as well as an emerging diaspora that is specifically Zimbabwean in nature. In this article, it is argued that the layering of these distinct diasporic histories has fostered a type of "doubled doubleness†in Tendai Maraire's music, extending DuBois' original conception of "double consciousness†to encompass multiple sites of identity location: the American superculture, the Shona culture of his parents, the old African diaspora, and the new Zimbabwean diaspora. It is further argued that Maraire has articulated this "doubled doubleness†musically through his relationships to musical styles associated with both old and new African diasporas, most notably North American hip-hop and Zimbabwean chimurenga, a genre that has historically functioned as a form of resistance to colonial rule.
References
Barz, Gregory, and Timothy Cooley, eds. 1997. Shadows in the Field: New Perspectives for Fieldwork in Ethnomusicology. New York: Oxford University Press.

Berliner, Paul. 1978. The Soul of Mbira: Music and Traditions of the Shona People of Zimbabwe. Berkeley: University of California Press.

Bhaba, Homi K. 1994 The Location of Culture. London: Routledge Press.

Charry, Eric S., ed. 2012. Hip-Hop Africa: New African Music in a Globalizing World. Bloomington: Indiana University Press.

Chitando, Ezra, and Pauline Mateveke. 2012 "Challenging Patriarchy and Exercising Women's Agency in Zimbabwean Music: Analysing the Careers of Chiwoniso Maraire and Olivia Charamba." Muziki 9(2): 41–52.

Clifford, James. 1994 "Diasporas." Cultural Anthropology 9(3): 302–38.

Devreindt, Tom. 2013 "Tendai Maraire: 'Boom is me throwing a punch at those that still disrespect Zimbabwean music" 3 April. Africa Is A Country: http:// africasacountry.com/2013/04/tendai-maraire-boom-is-me-throwing-a-punch-at-thosethat-still-disrespect-zimbabwean-music/ [accessed April 5, 2013].

DuBois, W.E.B. 1962. The Souls of Black Folk: Essays and Sketches. Greenwich, CT: Fawcett Publications.

Dutiro, Chartwell, and Keith Howard. 2007. Zimbabwean Mbira Music on an International Stage: Chartwell Dutiro's Life in Music. Aldershot, Hampshire, England: Ashgate.

Finnegan, Ruth H. 1989. The Hidden Musicians: Music-making in an English Town. Cambridge: Cambridge University Press.

Gilroy, Paul. 1993. The Black Atlantic: Modernity and Double Consciousness. London: Verso.

Harrison, Anthony Kwame. 2009. Hip Hop Underground: The Integrity and Ethics of Racial Identification. Philadelphia: Temple University Press.

Hobsbawm, Eric J., and Terence O. Ranger. 1983. The Invention of Tradition. Cambridge: Cambridge University Press.

Kizito Arts Movement. 2012 "Tendai Maraire" 5 August. Kizito Arts Movement: http://kizitoartsmovement.blogspot.com/2012/08/tendai-maraire.html. [accessed August 8, 2014].

Krims, Adam. 2000. Rap Music and the Poetics of Identity. Cambridge: Cambridge University Press.

Levitt, Peggy. 2009 "Roots and Routes: Understanding the Lives of the Second Generation Transnationally." Journal of Ethnic and Migration Studies 35(7): 1225–1242.

Lynch, Lesly. 2011 "Interview: Tendai Maraire of Shabazz Palaces" 15 December. Balumpa:blog.balumpa.com/2011/12. [accessed April 10, 2013].

Maraire, Tendai. 2012 "Chimurenga Renaissance" 9 March. Chimurenga Renaissance: chimurengarenaissance.cloudnice.com. [accessed July 1, 2012].

Matiure, Sheasby. 2008 "Performing Zimbabwean Music in North America: An Ethnography of Mbira and Marimba Performance Practice in the United States. PhD Dissertation: University of Indiana, Bloomington.

Matsheza, Shaun. 2013 "Music and Politics, and Why We Should Not Romanticize Our Leader's Faults" 15 April. This Is Africa: thisisafrica.me/opinion/detail/19865/ music-and-politics-and-why-we-should-not-romanticize-our-leaders-faults. [accessed April 18, 2013].

Osumare, Halifu. 2001 "Beat Streets in the Global Hood: Connective Marginalities of the Hip Hop Globe." Journal of American & Comparative Cultures 24(1–2): 171–81.

Pongweni, Alec J. C. 1982. Songs That Won the Liberation War. Harare, Zimbabwe: College.

Rose, Tricia. 1994. Black Noise: Rap Music and Black Culture in Contemporary America. Hanover: University of New England.

Roosblad, Serginho. 2013 "Musician Tendai Maraire: "Mugabe knew what he was doing" 7 April. WAZA Online: wazaonline.com/en/freedom-of-expression/musician-tendai-marairemugabe-knew-what-he-was-doing. [accessed August 9, 2014].

Slobin, Mark. 1987. Subcultural Sounds: Micromusics of the West. Middletown: Wesleyan University Press.

Turino, Thomas. 2000. Nationalists, Cosmopolitans, and Popular Music in Zimbabwe. Chicago: University of Chicago Press.

Vambe, Maurice T. 2004 "Versions and Sub-versions: Trends in "Chimurenga" Musical Discourses of Post Independence Zimbabwe." African Study Monographs 25(4): 167–93.

West, Michael O. 2002. The Rise of an African Middle Class: Colonial Zimbabwe, 1898–1965. Bloomington: Indiana University Press.

Discography:
Baba Maraire. 2011. Wona Baba Maraire, self released: (CD).
Chimurenga Renaissance. 2012. Pungwe, self released: (MP3).
Chimurenga Renaissance. 2013. Defenders of the Crusades, self released: (MP3).
FORE. 2012. Going Back is Not the Same as Staying, self released (MP3).

Filmography:
Epps, Douglas, Laurel Epps. 2012. Soul Resonance: A Cross-Cultural Celebration of Zimbabwean Music. DVD, Anchorage: Sacred Path Explorations LLC.
Priester, Atuanya. 2013. Boom! Music Video, Seattle: A Real Grip Studios.

Interviews by author:
Jones, Claire. Rochester, New York (via Skype), 7 February 2014.
Maraire, Tendai. Seattle, Washington, 7 July 2013.
Munjeri, Patience Chaitezvi. Rochester, New York, 17 October 2013.
Seretse, Sheree. Rochester, New York (via Skype), 15 March, 2014.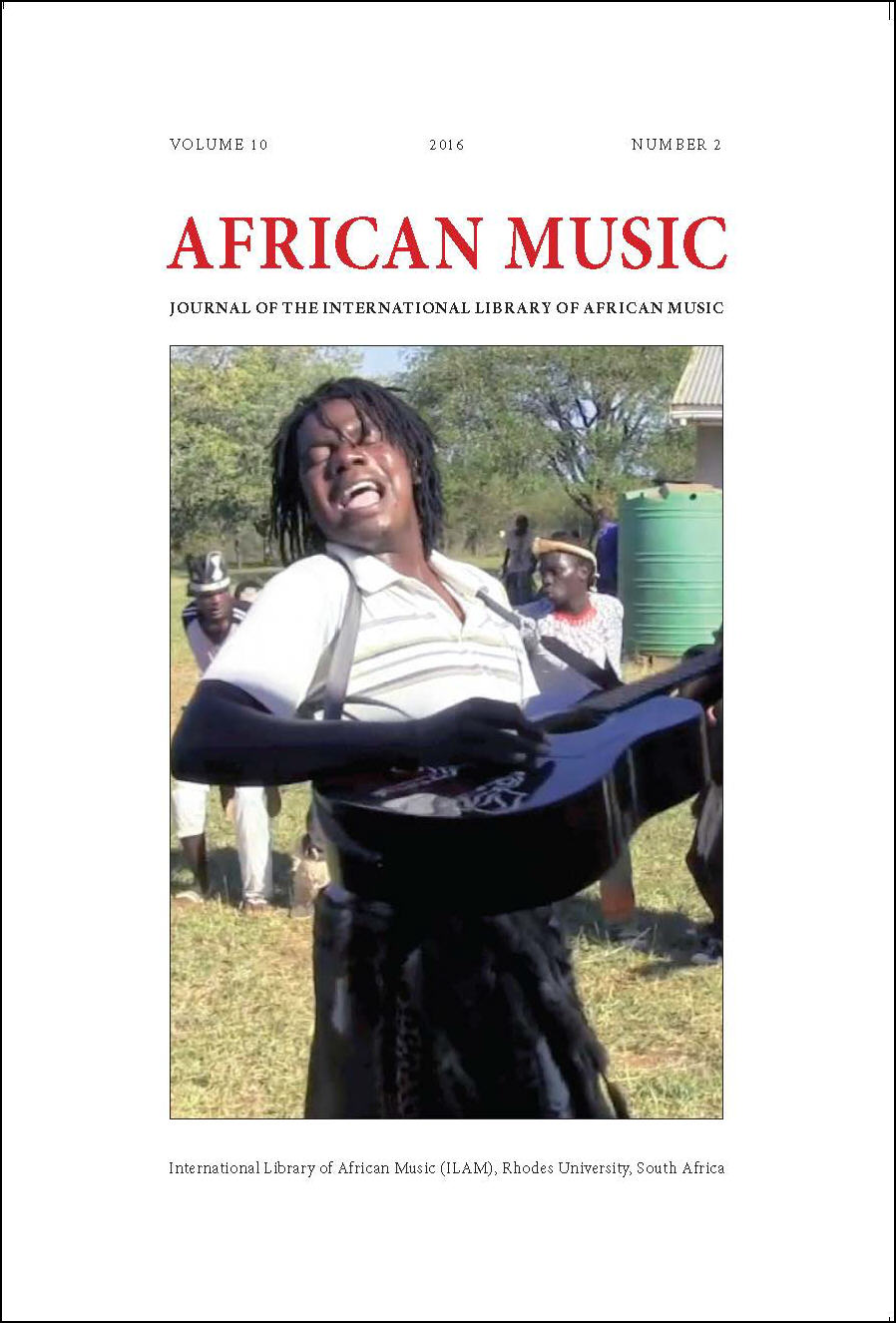 Downloads
How to Cite
Richey, Austin Thomas. 2016. "CHIMURENGA RENAISSANCE: DOUBLE DOUBLENESS IN THE DIASPORIC MUSIC OF TENDAI MARAIRE". African Music : Journal of the International Library of African Music 10 (2):167-85. https://doi.org/10.21504/amj.v10i2.2043.