THE EVOLUTION OF SOTHO ACCORDION MUSIC IN LESOTHO: 1980–2005
Keywords:
Basotho, accordion music, koriana, evolution,, status, Lesotho, famo, focho, shebeen
Abstract
The article describes the origins, evolution and status of Sotho1 koriana accordion music from the 1920s through the 1960s and 70s when it was considered shebeen music, and from1980 to 2005, when there was a change of attitude towards it and only sporadic production. Two concerns are: the status of koriana music, and, its appreciation by Sotho people themselves. Data was collected through observations, interviews with artists and listeners, and from cassettes, radio and TV programmes. Aspects of the music are described and related to non-musical events of the period.
References
Abrams, Meyer H. 1999 A Glossary of Literary Terms. Cornell University: Harcourt Brace College Publishers.

African Crime and Conflict Journal 2017 "Accordion Killers: Hundreds of Murders in Lesotho over Music Rivalry." African Crime and Conflict Journal [accessed 26 June, 2018].

Central Bank of Lesotho 2005 Quarterly Review.

Cohen, Dror 2008 The Role of Rap/Hip Hop Music in the Meaning and Maintenance of Identity. MA Thesis: University of Witwatersrand, Johannesburg.

Coplan, David B. 1985 In Township Tonight! South Africa's Black City Music and Theatre. Johannesburg: Raven Press.

Coplan, David B. 1988 "Musical Understanding: The Ethnoaesthetics of Migrant Workers' Poetic song in Lesotho." Ethnomusicology 32 (3): 337–368.

Coplan, David B. 1995 Lyrics of Basotho Migrants. Madison: University of Wisconsin.

Coplan, David B. 1994 In the Time of Cannibals: The word music of South Africa's Basotho Migrants. Chicago: The University of Chicago Press.

Finnegan, Ruth 1977 Oral Poetry: Its Nature, Significance and Social Context. London: Cambridge University Press.

Machobane, Lehlohonolo B.B.J. 1990 Government and Change in Lesotho 1800–1966.London: Macmillan Press.

Mokemane, Senqunyane 2011 Lyrics of Basotho Accordion Music as an Alternative Modernity. Germany: LAPLambert Academic Publishing.

Moitse,Sindile 1994 The Ethnomusicology of Basotho. Lesotho: National University of Lesotho Institute of Southern African Studies.

Mokitimi, 'Makali I. 1998 Lifelatsa Litsamaea-naha Poetry: A literary Analysis. Pretoria: J.L. van Schaik.

Mokitimi, 'MakaliI. and Phafoli, Lehlohonolo 2001 "Orality in Worker Movements; A Case of Lifela." In African Oral
Literature Functions in Contemporary Contexts, Russell H Kaschula, ed. 227–232. Cape Town: New Africa Books.

Mphahlele, Ezekiel 1971 The Wanderers. London.

Okpewho, Isidore 1992 African Oral Literature: Backgrounds, Character and Continuity. Bloomington and Indianapolis: Indiana University Press.

Phafoli, Lehlohonolo 2002 African Renaissance in Basotho Accordion Music. ISOLA Conference, University of Savoie, Chambery, France. 10–12 July.

Phafoli, Lehlohonolo 2005 "Aids Awareness Campaign: The Role of the Artists in the fight Against HIV/AIDS." Southern African Journal for Folklore Studies 15(1): 103–113.

Phafoli, Lehlohonolo 2006 Naming Among the Basotho Accordion Artists. 14th Names Conference, Ithala Game Reserve, Kwazulu, Natal. 20–24 November.

Phafoli, Lehlohonolo and Shava, Viriri. 2013 "The Use and Application of Proverbs in Basotho Accordion Music."
Journal of Music and Meaning 11: 1–5.

Phafoli, Lehlohonolo. and Zulu, Nogwaja S 2014 "Narratives of Personal Experiences: The Construction of Identity in
Basotho Accordion Songs." South African Journal of African Languages 34(2): 181–193.

Phafoli, Lehlohonolo and Martins, Thabo 2015 "Contextual Use of Metaphors in Basotho Accordion Music". Recent
Developments in African Linguistics and Literature: A Florilegium for Francina Moloi. New York: David Publishing Company. 463–470.

Ramainoane, Ratabane K. 2005 Thaba ea Matelile e helehile: Thabo Lesholu 1951–2005. MoAfrika 14
(25): 7. Maseru.

Ramonotsi, 'Mathapeli. 2006 "Musician Sidney shot dead." Public Eye. 6 October, Maseru. 4

Sekoni, R. 1990 "The Narrator, Narrative-Pattern, and Audience Experience of Oral Narrative Performance." In The Oral Performance in Africa, Okpewho I, ed. Ibadan: Spectrum Books Limited. 142.

Sosibo,Kwanele 2017 "Interview with Tšeliso Monaheng" Mail & Guardian. 22–28 September [accessed 26 June, 2018].

Tracey, H. 1945 Ngoma: Introduction to music for Southern Africans. London: Longman, Green & Co.

Volans, K. 1979 Southern Africa Music Collection Recorded in 1979–08–07. http//www.mimo-db.eu/instrumentsKeywords/3396.

Wells, R. E. 1994 An Introduction to the Music of the Basotho. Morija: Morija Museum
and Archives.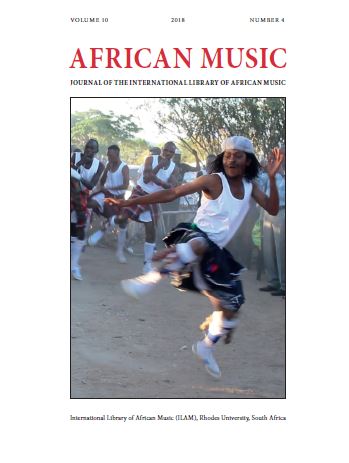 Downloads
How to Cite
Phafoli, Lehlohonolo. 2018. "THE EVOLUTION OF SOTHO ACCORDION MUSIC IN LESOTHO: 1980–2005". African Music : Journal of the International Library of African Music 10 (4):127-43. https://doi.org/10.21504/amj.v10i4.2236.